This site is on it's way in becoming the first site banned [censored] from the internet. Banned in terms of:
• Banned from being listed and indexed in search engines in general. This is half the battle right here, as no one will know about the site when they do research with whatever key words they put in the search engine to see what results are returned from the search engine.
• Banned from most blogs and websites. Meaning that people will not be able to link back or discuss the site without risking their own website being banned from search engines for "inappropriate content" or whatever other excuse the search engines will come up with.
• Banned from all corporate computers, libraries and schools with special software. Software that will display a message saying that the site you are trying to access either has "inappropriate content", is either a "hate site" or "illegal" [or whatever terms they [the software] will use to keep people from viewing the truth] and that to try visiting another site that is more "appropriate" for viewing.
• Banned from all mailing list sites and groups like yahoogroups because the customer service/techical support staff will delete messages posted within minutes and use an excuse of how there was a "glitch" in the system [or whatever] so that they [try to] negate their liability of the hurt they cause when they practice censorship.
• Banned from all ISPS [ISP stands for Internet Service Provider] from all countries. The ISPS will use whatever software/filter that the corporations, libraries and schools use to act like a parental authority in deciding what sites you are allowed to view and which sites you won't be allowed to access.
This list pretty much sets precedence for other sites that the New World Order will be banning in the near future. Banning sites that they can't control in terms of hacking the server and shutting down the website or not being successful in bullying you or bullying your web host to pull the plug on the site. The censorship whores are going REAL BATTY in trying to keep this site offline/shut down permanently. From them trying to fry the server, to attempts of sending viruses to slow down the server connection, to attempts of them trying to hack through to hack pages and pictures off the site, to annoying email threats, to verbal harassment against those who link back to this site, to harassing those who talk about the end game plan at various forum boards, it's like walking up and down a ladder between heaven and hell. This site is dividing the nations. Separating the wheat from the chaff.
Many have turned into rabid wolves over the EndGame Plan document being passed around. If it's not another government agent that reveals itself on the net, then it's another censorship tactic that they are trying in an attempt to keep people from seeing this EndGame Plan document.
Those who keep trying to post a bulletin on myspace keep receiving an error of how you are not allowed to make such a post because the post contains "inappropriate content". Labeling the truth as inappropriate? More like the truth being an "inconvenience". The Inconvenient Truth.
If that wasn't being annoying enough, anyone who has tried to link back to this site on their myspace profile, and then tries to click through on the link, a strange message pops up: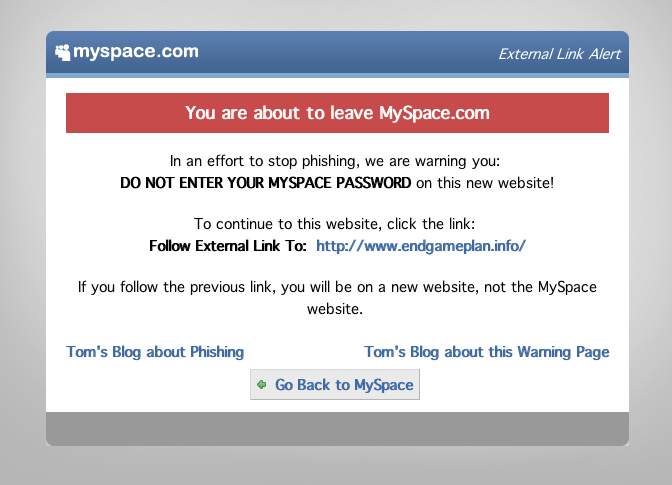 That message does not pop up when you link back to a different site on your myspace profile. It pops up when you link back to this site. "In an effort to stop phishing".. yeah right. More like an effort to stop the truth from spreading. The censorship war against this site never ceases to amaze me. Same with the mindless verbal insults from the bushitler government agents against this site. The latest one being Loren Dale Bartlett:
Date: Sat, 8 Mar 2008 17:36:30 -0800 (PST)
To: vietnamveteransonthenet@yahoogroups.com
From: G Lemieux <g.lemieux@yahoo.com>
Subject: TIM WHITES BLOG = FUCKFACE EXTRODINAIRE
Tim is as stupid as box of rocks. I agree with Harry, he should be institutionalized!
...........................
Tim White is not the webmaster of this site or blog. Tim only takes the webpages from this site and reposts them all over the net just to make the smirking chimp in the white house have continual seizures.
Here is a photo of Loren [sounds like a woman's name if you ask me], a rotting pear: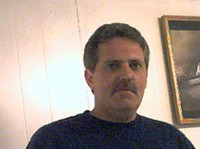 Here is a bigger photo: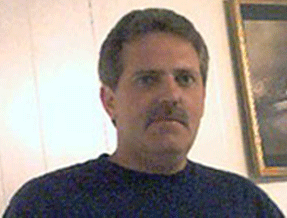 Looks like a criminal you say? He DOES have a criminal record. This is courtesy of a certain "people search" engine:
CRIMINAL CHECK FOR ALL LOREN BARTLETT IN THE STATE OF TX
RECORD 1 OF 2
IDENTIFICATION
LOREN DALE BARTLETT
WHITE MALE
DOB: 08/22/1960
PROFILE INFO
WEIGHT: 169 LBS
HEIGHT: 5'11"
EYE COLOR: BLUE
HAIR COLOR: BLONDE
OFFENSE DETAILS
STATE CODE: TX OFFENSE ID: TX_DOC972281
OFFENSE: NOT SPECIFIED BY STATE

RECORD 2 OF 2
IDENTIFICATION
LOREN DALE BARTLETT
WHITE MALE
SOURCE: TEXAS
DOB: 08/22/1960
ALIASES: BARTLETT,
LOREN DALE;
JOHNSON, RANDY
PROFILE INFO
ALIASES: BARTLETT, LOREN DALE; JOHNSON, RANDY
WEIGHT: 169 LBS
HEIGHT: 5'11"
EYE COLOR: BLUE
HAIR COLOR: BLOND OR S
OFFENSE DETAILS
ARREST AGENCY: FOR NCIC 2000 DATA
CONVERSION PURPOSES ONLY ARREST DATE: 09/21/1983
INSTITUTION DETAILS: FROM HARRIS COUNTY STATE CODE: TX
OFFENSE DATE: 09/21/1983 OFFENSE: POSS CONTROLLED
SUBSTANCE

CIVIL JUDGEMENT RECORDS FOR LOREN BARTLETT IN THE STATE OF TX
RECORD 1:
CIVIL RECORD VERIFICATION: CONFIRM CASE # 20032004 119640 AT THE COURT HOUSE
DEFENDANT: BARTLETT, LOREN D CASE NUMBER: 20032004 119640
FILING TYPE: FEDERAL TAX LIEN -
INCOME ENTITY TYPE: INDIVIDUAL RECORD
FILING DATE: 20041212 AMOUNT LIABILITY: $45,162.00
ADDRESS: 1651 BRANDON LN CITY: WILLIS
STATE: TX ZIP: 77378
PLAINTIFF: USA IRS COURT CODE: TX185
COURT NAME: MONTGOMERY COUNTY,
CONROE COUNTY CLERK
UNLAWFUL DETAINER: N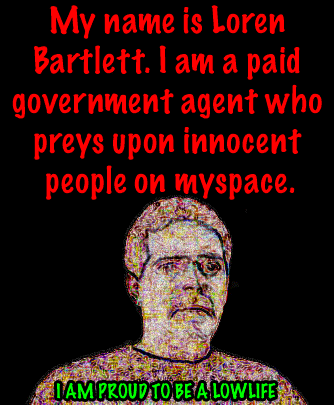 Not only does he lurk on myspace, he also lurks around on internet dating sites. And that is how I found his photo by sheer accident. This is a list of yahoo ids he uses to harass and belittle people with:
withextremeprejudice
powm58
loren.bartlett
electricman860
electro8600
mobley_bartlett
electro1391
loren_bartlett
electro1491
thomas95521
powm60
electro8667
zuluzarbock [make note of these last 4 ids on this list, as with these 4 ids, he talks real filthy with them. Just filth]
g_lemieux
g.lemieux
fumanchu69437
You know them by their fruits. The more they try to censor this site, the more it will come back to bite them in the ass at the most inconvenient time: Judgment day where all are judged according to their works and faith. DO NOT put off tomorrow when you can do it TODAY. Download the endgame document NOW and pass it around. Print out copies and give the document to your friends, family, neighbors, etc. This site is on it's way to being the first site banned from the internet and "they", the New World Order may shut the internet down soon or even sooner if they are not "successful" in censoring this site.